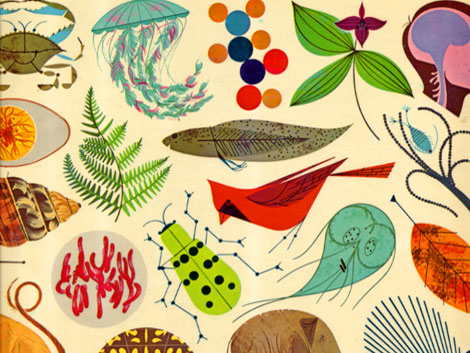 It's Monday again… and Monday is the time for brightly-coloured, cheering things, especially when it's February and toes are cold, and spring still feels an unfeasibly long time away.
Today, I am admiring these beautiful illustrations by artist Charley Harper. Inspired by the simplicity of Inuit art and movements like Cubism and Minimalism, as well as the mathematics, geometry and physics, Harper developed a style he termed "minimal realism" which aimed to capture the elements of his subjects (usually animals and birds), reducing them to a series of simple visual elements such as shapes, patterns and colours. Working in direct opposition to conventional "superrealistic" illustrations of nature and wildlife, he characterised his unique approach as follows:
When I look at a wildlife or nature subject, I don't see the feathers in the wings, I just count the wings. I see exciting shapes, color combinations, patterns, textures, fascinating behavior and endless possibilities for making interesting pictures. I regard the picture as an ecosystem in which all the elements are interrelated, interdependent, perfectly balanced, without trimming or unutilized parts; and herein lies the lure of painting; in a world of chaos, the picture is one small rectangle in which the artist can create an ordered universe.
I am currently coveting this fabulous (and enormous) monograph of Harper's work, entitled Charley Harper: An Illustrated Life, which brings together images from all five decades of his career – however with an RRP of £99.95 I think it's going to have to stay on the wish list only!
Other things that have cheered up my Monday include: the first spring daffodils; blueberries and strawberries in my fruit salad; fleeting moments of sunshine; my growing addiction to we heart it; button earrings and black satin bows; soya hot chocolate as a mid-morning treat; the excellent Special Topics in Calamity Physics by Marisha Pessl; and the prospect of maybe checking out this when I go down to London later this week.
What has brightened up your Monday?