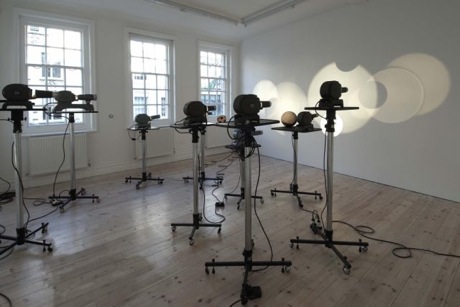 The third Northern Art Prize, which the Guardian describes as "the north's leading contemporary art award… attempting to become a northern version of the Turner Prize", was recently awarded to Manchester-based artist Pavel Büchler at a ceremony at Leeds City Gallery.
In selecting Büchler from a shortlist that also included Matt Stokes, Rachel Goodyear and the partnership of Nick Crowe and Ian Rawlinson, the judges, who included the artist Richard Deacon, paid tribute to the important role he has played in the development of Manchester's art scene, stating "Büchler has been consistently influential to a huge amount of people throughout his career, both as a practitioner and teacher." "I love Manchester," Büchler agreed on accepting the prize. "Of all the regional cities I know, it has the least "regional" attitude. Artists there are not chippy about the rest of the world."
"The [Northern Art Prize] is galvanizing attention on a region that is really becoming very exciting in terms of the quality of artists working here," said Simon Wallis, director of the Hepworth gallery which opens next year in Wakefield. Yet not all this attention has been positive: Alfred Hickling, writing about the prize in the Guardian, doesn't seem to have been too impressed with the shorlisted works. Taking umbrage with a poorly-edited exhibition catalogue, he dismisses one of Büchler's sculptures as looking like "something that fell from behind a janitor's ear" and characterises Rachel Goodyear's drawings as "small, competent self-portraits in pencil that depict her enacting fantasies such as concealing a baby rhino beneath her skirt or having her bottom fondled by a weasel." His final verdict is that "if the Northern Art prize has aspirations to become a regional equivalent of the Turner, it still has some way to go."
What all this coverage really left me wondering is why exactly the Northern Art prize should aspire to become a "regional equivalent" of the Turner. There seems to be a disquieting tacit acknowledgement here that the most important contemporary art in this country comes out of the south and especially out of London, and that even a supposedly "national" prize like the Turner is really all about London art and artists. Although drawing attention to the quality of contemporary art being made in the north can only be a good thing, there is also the possibility that in stressing the "regional" and "northern" identity of this work, it only cements the distinction between north and south, and the related notion that some kind of geographical hierarchy exists. Ultimately I'm left asking myself if there is any real, tangible difference between "regional" and "London" art works, other than the art market and institutions that surrounds them, and if so, what that difference might be.
So what is "Northern art"? If anyone has an answer, I'd be intrigued to hear what you think…