Following last week's ticket giveaway for the We Make London Christmas Craft Wonderland, on Saturday I popped over to Chelsea Town Hall to take a look at the fair myself.
It was a suitably festive occasion, complete with carols, fancy dress and tasty Christmas treats in the cafe. Stalls displayed a wide range of work from over 80 designer/makers, including jewellery, homewares, ceramics, clothing and limited edition prints, largely at very affordable prices: great for finding unusual Christmas gifts, not to mention a little crafty inspiration.
Whilst we were there, we also joined in with a fun Christmas decoration workshop, led by Aimee Waller of Chateau Velvet. Aimee showed us how to make some paper Christmas decorations – as well as feeding us with Quality Street – thanks Aimee!
Here's a few things that caught my eye at the fair: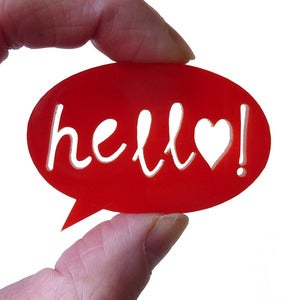 I hope that all those who entered the giveaway for free tickets enjoyed their visit to the fair…